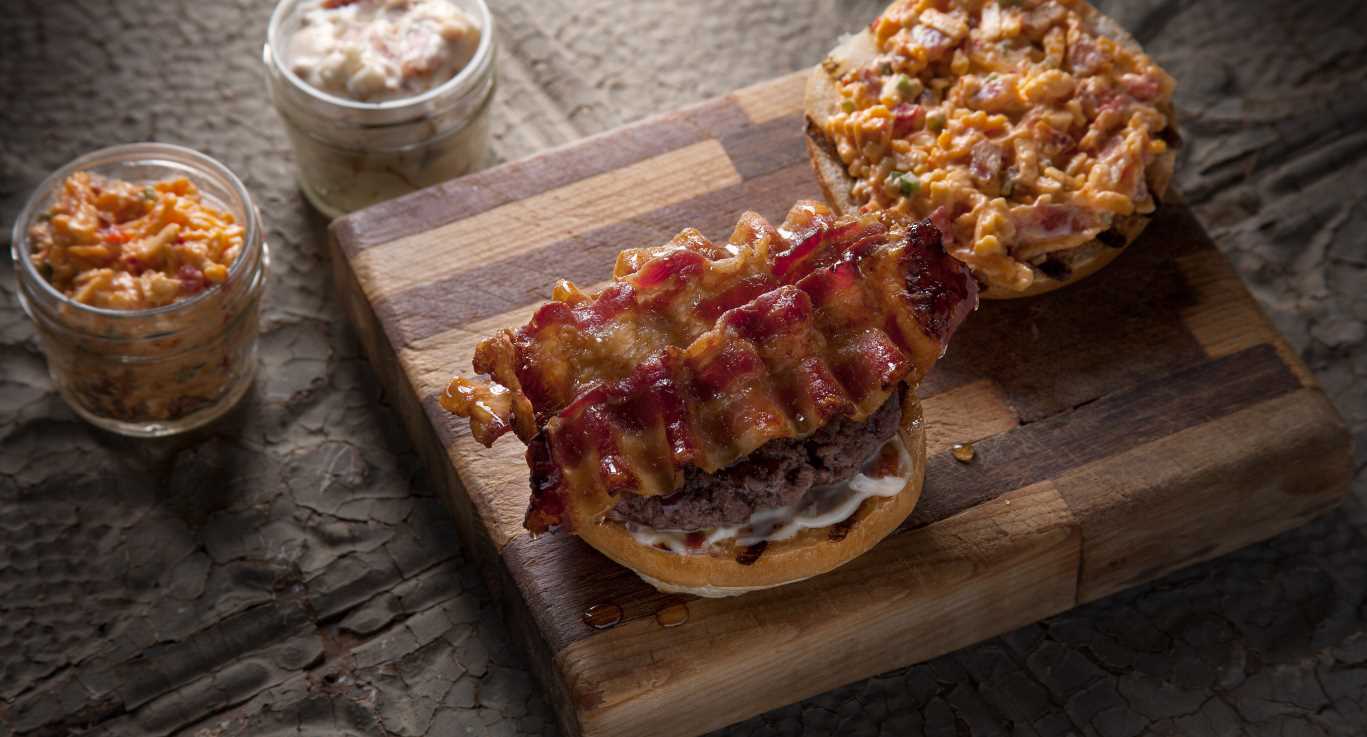 The Burger featuring Wright® Brand Bacon
You can get a burger anywhere. You know it, and so does everyone you're grilling for. So, if you're going to bring them to the table, you'd better do them well … well not literally, "well", that's a waste of a good burger.
It's no surprise we think the only way to push a big, juicy burger into "legend" territory is to let our bacon steal the show, so we've worked it into everything on this bad boy. First we intensified the sweetness of the classic bacon slice with our bourbon style maple glaze. Then we crafted a delicious, smoky aioli so you don't waste any space on a bland white spread. Finally, we added a mouth-watering bacon-pimento cheese. Move over beef patty, it's time for our bacon to take center-stage.





Ingredients
12
Strips
Wright® Brand Applewood Smoked Bacon
4 Kaiser rolls, split & toasted
Pimento Cheese: 4 strips Wright® Brand Applewood Smoked Bacon, 8 ounces American cheese (11 slices), ⅔ cup mayonnaise, 1 (7-oz.) jar pimentos (drained & chopped), ½ teaspoon ground black pepper, ½ teaspoon cayenne, 1 cup shredded extra-sharp cheddar cheese (divided)
Bacon Mayonnaise: 3 strips Wright® Brand Applewood Smoked Bacon, 2 cups mayonnaise
Directions
1. First preheat a conventional oven at 400°F.
2. Then place all the bacon on a foil lined sheet tray and cook it for 18-20 minutes or until crisp. Remove the bacon from your oven and place it onto paper towels to drain any excess grease. Then, coat 12 strips of bacon with maple syrup, keep them warm and set them to the side.
3. Next, start making the Bacon Pimento Cheese spread. Dice the American cheese into small cubes and place into a food processor. Add 4 strips of bacon, mayonnaise, pimentos, seasonings and ½ cup of the shredded cheddar cheese, then blend it all until it's well incorporated. Next remove the mixture from the bowl by scraping with a spatula and pour it into another mixing bowl with the remaining cheese. Use the spatula to fold in the shredded cheese and place into a plastic container. This step can be done ahead of time and held in the refrigerator for up to a week.
4. Now it's time to make the Bacon Mayonnaise. Take 3 strips of bacon and crumble them into small pieces then place them into a mixing bowl. Fold in the mayonnaise until incorporated well and place into a plastic container. This step can be done ahead of time and held in the refrigerator for up to a week.
5. Next go outside and fire up your grill. Preheat your outdoor grill on a medium heat and with a damp paper towel wet your hands and shape the ground beef into 4-6 patties, each about 1-1 ½ inch thick. Grill the burgers for 6-10 minutes per side or until an internal temperature of 145-165°F is reached and juices run clear.
6. Serve these burgers up hot between the toasted Kaiser rolls with our Bacon Pimento Cheese spread and Bacon Mayonnaise. That's a burger the Wright Way.