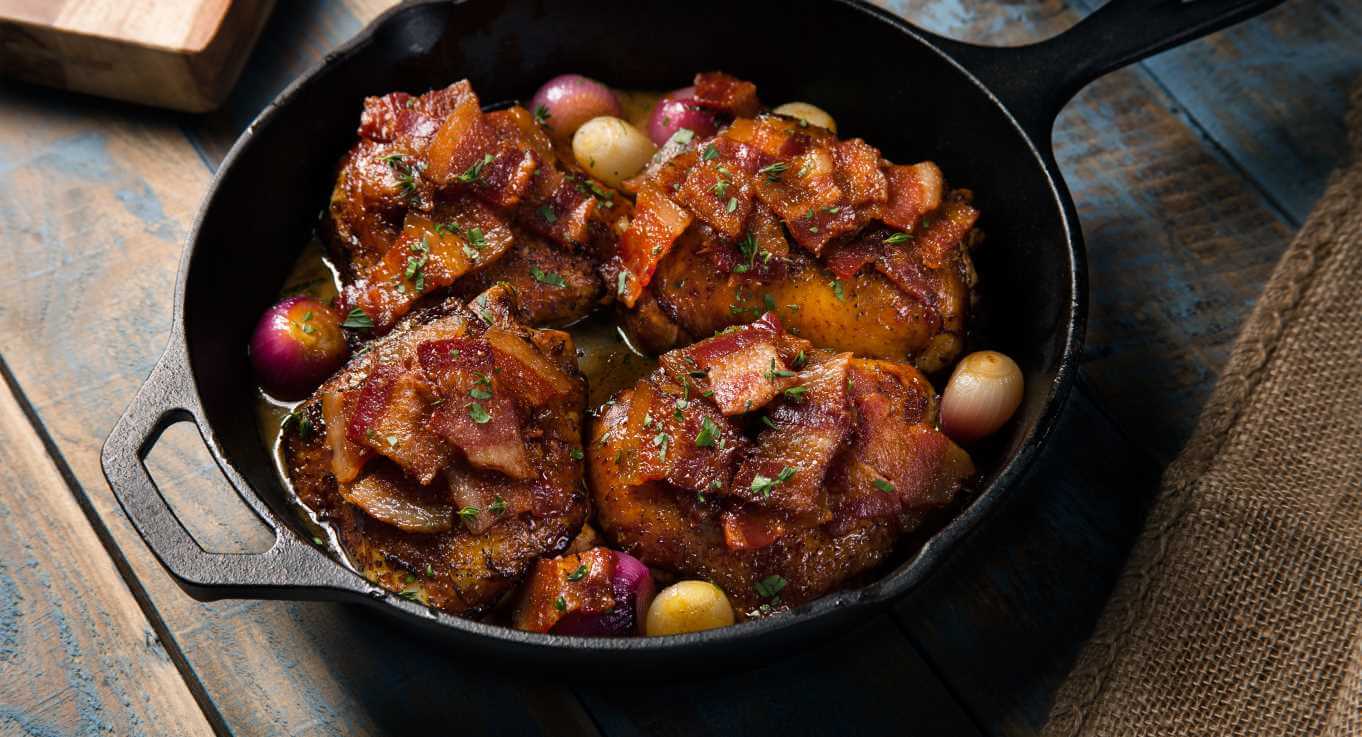 Bacon & Ale Skillet Braised Chicken Thighs
There are two fundamental truths around our smokehouse: 1. Over the last 90 years we've mastered the craft of making bacon, and 2. Everything is better with beer.  This recipe combines the two then adds tender, juicy chicken thighs. Honestly, there's not much more to say here. 
Enjoy.



Ingredients
8 chicken thighs, Bone-In, Skin-On
12
Slices
Wright® Brand Applewood Smoked Bacon, Cut Into ½" Strips
1
Pound
pearl onions, red and/or white, peeled
2 bottles of a medium bodied flavorful microbrew (like an IPA)
1
Tablespoon
finely chopped thyme
1
Teaspoon
teaspoon parsley, finely chopped
Salt and finely ground black pepper to taste
Directions
1. First remove the chicken thighs from their packaging and place them on a cookie sheet. Give them a good pat on both sides with a paper towel to dry. Then, season both sides with salt and black pepper and leave them skin side up until you're ready to cook.
2. Next place the cut bacon into a large (preferably cast iron) skillet. Set the skillet over medium heat and cook the bacon to a nice crispy brown. Then, remove the cooked bacon with a slotted spoon, and reserve.
3. Now, place your chicken thighs, skin side down, into the skillet. Cook them over medium heat until the skin is golden brown, (approximately 7 minutes).
4. Next flip the chicken and cook it meat side to give the other side a golden brown, (approximately 5 more minutes).
5. Now remove the browned chicken from the pan and reserve on a plate or cookie sheet.
6. Then add your peeled pearl onions to the skillet and brown them gently on all sides, (approximately 10 minutes).
7. Next drain off the excess fat from your skillet. Then add malt vinegar, and reduce by half (approximately 1 minute or less). Be sure to use a wooden spoon, rubber spatula, or flat whisk to scrape the browned bits from the bottom of your pan.
8. Now comes the beer. Add both bottles to the skillet and bring them to a boil. Again, use a wooden spoon, rubber spatula, or flat whisk to scrape the browned bits from your pan.
9. Next add the crispy bacon, chicken (skin side up), and 2 tsp of chopped thyme back into your skillet. Then reduce the heat to a simmer and cover, but leave the lid slightly askew to allow steam to escape. Continue to cook at a light simmer until the chicken thighs are cooked through, (20-25 minutes as the cooked chicken must reach 180°F on a meat thermometer for this method).
10. After the chicken is cooked, remove the lid, and serve two thighs per friend with a generous ladle of bacon, onions, and the beer braising juices. Consider complementing your dish with potatoes, polenta, or Bacon-Hazelnut Farro salad and sprinkle with remaining thyme and parsley.
11. Chef Tips – If you are worried about the beer flavor being too strong, substitute 12 oz. low/no sodium chicken broth for 12 oz. (1 bottle) beer. That's how you cook chicken thighs, the Wright Way.