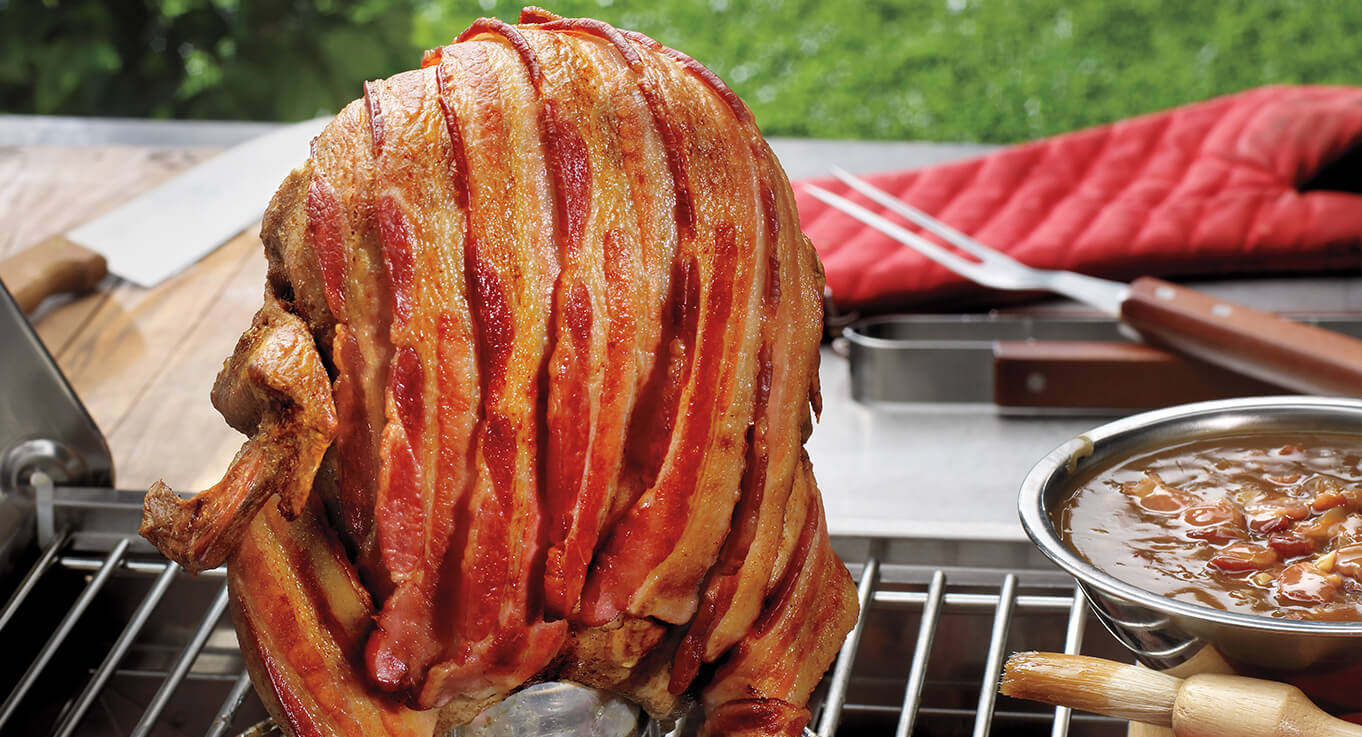 Bacon-Wrapped Beer Can Duck and Honey-Beer Glaze
Are burgers and brats getting boring? Change up your next cookout with something a little duckier. Of course, we wouldn't even be talking about this recipe if it didn't also contain rich, delicious bacon, and this has plenty.
First, our tender, moist duck gets wrapped up in our Naturally Smoked Applewood Bacon. Then, the sweet and savory honey-beer glaze contains crumbled up bits of our Naturally Hickory Smoked Bacon. And that sounds like the opposite of boring to us.


Cook Time:
1 hour 30 minutes

Ingredients
1/2
Cup
yellow onion, diced
2
Tablespoons
Worcestershire sauce
1/2
Teaspoon
garlic, minced
1 whole duck, (4-5 lbs)
garlic pepper seasoning to taste
1 vertical chicken roaster
Directions
1. Pre-heat grill over low heat.
2. Cut the top off of a beer can (empty first, of course). Combine beer, 1 tablespoon Worcestershire sauce, 1 tablespoon honey and 3 cloves of crushed garlic in the can. You can also use any heat-stable cylindrical container.
3. Generously season the entire duck with garlic pepper seasoning and score a cross-hatch pattern into thighs and breast.
4. Place duck "standing up" over beer can and rest on vertical chicken roaster. Place aluminum lined sheet pan under the roaster, set into grill and close lid.
5. Roast duck for 2 hours. Check every now and then for doneness and to drain rendered duck fat from the aluminum pan.
6. When duck skin has started to brown and crisp, drape 6 pieces of our Applewood bacon (finally — the good stuff) over the breasts and shoulders. Wrap legs with one piece of bacon each.
7. As duck continues to roast, cook 4 slices of our hickory smoked bacon until crispy. Allow to cool slightly, crumble in a bowl, and set aside.
8. Over medium low heat, cook onions in a small skillet until they become translucent. Add 2 tablespoons honey, 2 tablespoons Worcestershire sauce, ½ teaspoon of minced garlic, and beer. Cook until slightly thickened. Remove sauce from heat and whisk in butter and bacon. Keep warm, reserve.
9. Don't forget about the duck! When the bacon begins to crisp, it's ready. Remove duck and let rest for 10 minutes. Carve and top with honey-beer glaze before serving.